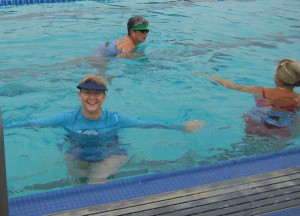 Last summer I decided enough was ENOUGH! I joined the local gym and made a commitment to get more exercise. (Remember Рwater magnifies & distorts images beneath the surface Рsurely I am NOT that shape!!).
Now, just so you know, this is not my forte in life – I am not naturally athletic. When I was a kid, I was on a swim team – and it turns out that swimming was a sport I could actually accomplish!
Currently I participate in deep-water aerobics Рand its a lot of fun. The class (men and women) works out for 1 hour, 3 times weekly. The exercise is great because you don't injure joints or your feet, but you still get a great workout. Try it! You might like it, too!
Tags: Exercise, pool, water aerobics