Store
Lone Star Quilts & Beyond by Jan Krentz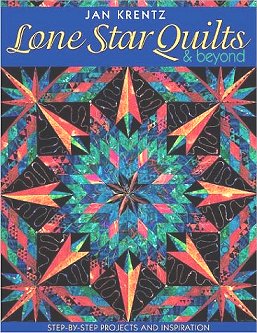 Editorial Reviews
About the Author
Jan Krentz is an award-winning quilter and designer, and has taught quiltmaking for almost 20 years. She lives in Poway, near San Diego, California.

Book Description
Now a master quilter helps you explore the world of Lone Star quilts! Jan Krentz demonstrates, step by step, everything you need to know to make the Lone Star quilt of your dreams, from fabric choices to finishing touches. This guide includes six colorful projects to get you started, along with a gallery of eye-catching Lone Star quilts to inspire creativity. Rotary cutting techniques saves you time, while imaginative additions such as appliqué and "designer diamonds" give these quilts a fresh, updated look.
Look inside with Google's Preview!
Companion learning aide! An excellent how-to DVD features the techniques from the book, plus current techniques covered in Jan's popular Lone Star Quilt classes. Click here to see "Jan Krentz Teaches You to Make Lone Star Quilts".
Jan Krentz on Amazon
$

29.95
---