Store
Hunter Star Quilts & Beyond by Jan Krentz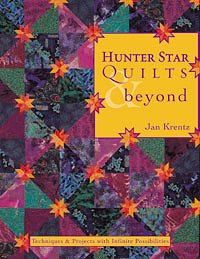 Editorial Reviews
About the Author
Jan Krentz is an award-winning quilter and designer. In 1998, The Professional Quilter named her Teacher of the Year. She lives near San Diego.

Book Description
Hunter Star is an old-time block with a fresh new look, thanks to quilting expert Jan Krentz. Here are nine complete Hunter Star projects, all using Krentz's pieced or quick-fused methods. Choose from template piecing, strip piecing, half-square triangles, fusible web, and more. Krentz shows how to use the versatile Hunter Star as a block, for sashing, to create wreath or log cabin designs— the possibilities are endless!
optional companion product: Colorwash Hunter Star fusible foundation panels
Look inside! See images using Google preview!
Jan Krentz on Amazon
$

29.95
---