Store
Quick Diamond Quilts & Beyond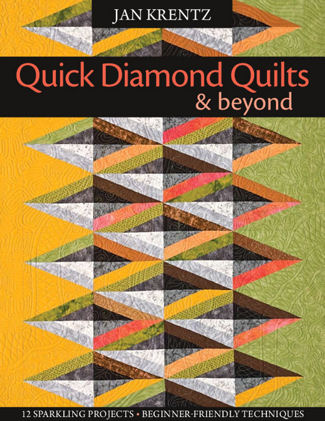 Jan'sdynamite sequel book to Quick Star Quilts & Beyond! I created so many great diamond quilt designs, that C&T agreed to split the collection into two books!
You will want to use your Diamond Ruler set, and the companion Quarter and Half Diamond tools, too. Cutting the designs also uses your standard straight rulers for some great fun effects!
See inside with Google's Previewer!
This book features:
Classroom-Tested Techniques Make Diamond Quilting Easy

Twelve new diamond quilt patterns-without inset seams!

Enhance your fabric selection with Jan's tips on color value, texture, and contrast

Discover how to use geometric fabrics to make your quilt shimmer and shine

A perfect companion to Diamond Quilts & Beyond

More than 30 inspirational gallery quilts

Add machine appliqué for whimsical wall quilts
Have you ever stared at a beautiful diamond quilt and thought, "I wish I could make that"? Well now you can! Thanks to Jan's clever techniques and new designs, you can create these gems with ease. Using the fast2cut® rulers makes it even easier!
Jan Krentz on Amazon
$

29.95
---