Store
Diamond Quilts & Beyond by Jan Krentz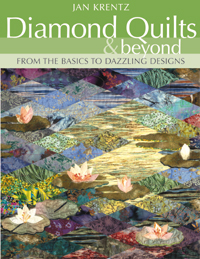 Create your own gorgeous quilt from shimmering diamonds!
Jan makes it easy to imagine, plan, and create your own beautiful art!
Let Impressionist paintings inspire you to try a colorwash look - with
diamonds!
4 projects help you gain the confidence to create a fabric masterpiece
Easy construction techniques
Lots of inspirational photos and a breathtaking gallery
Original full retail price: $28.95
NOW ON SALE!
Jan Krentz on Amazon
$

10.00
---