Newsletter
Happy Thanksgiving Weekend / Black Friday Sales!
Hello!
Happy post-Thanksgiving and holidays to you and yours! We had our whole family (adult kids, their spouses, and our 2 young grandchildren) here. It was crazy and fun! Our turkey was the prettiest I have cooked in all of my adult life (another amazing feat in a crowded kitchen!).
Now that everything is cleared away, the family has returned home, I want to share some news with you about Craftsy's biggest event of the year. While this is the season to shower your loved ones with gifts, but why not invest in yourself, too? Craftsy is making that just a little easier by marking down ALL online Quilting classes to $19.99 or less, including mine, through Monday, Dec. 1st. Give the gift of learning when you click here.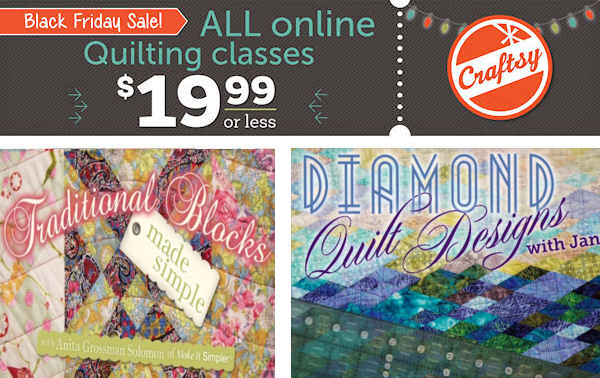 Finally, a news flash. I am testing (and loving!) a thread from Spain: Presencia. Presencia is a beautiful 100% cotton 3-ply thread in many rich colors. In the US, Presencia is available from Colonial Needle, who also sell a great range of fine quilting needles, and the complete line of Roxanne's products.
I am planning to sell a collection of Presencia threads from my web store, and will send you a separate newsletter to offer an introductory price on this fabulous thread. My favorite weight is the 60wt. 3-ply which provides a smooth, strong, fine seam when precision piecing.
Happy Holidays!