Wednesday, March 2nd, 2011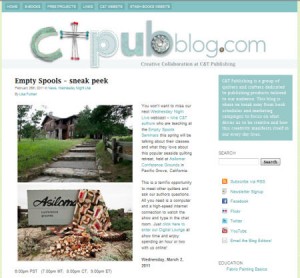 Join nine C&T Authors this evening (March 2, 2011) on the C&T Wednesday Night Live online digital lounge!  Click the photo to go to the C&T blogsite and learn more!
We will be discussing our upcoming workshops in the world-famous Empty Spools Seminars, held annually at Asilomar Conference Grounds in beautiful Pacific Grove, California.
If you are new to the online digital¬†format, it is a live, interactive online chat room 'Äďwhen you log in, you will set a name for yourself, and you will see the presenters talking on their web cameras (one at a time). You may enter comments throughout the evening, and at the end, post your own web site or blog address for others to see and write down.
See you tonight online at 6pm Pacific Standard time! (link: World Clock Time zone converter to locate your local time)  Following the event, you may also watch the recorded event; I will post the link when I know it!