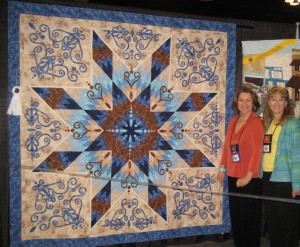 Wow! What a terrific show! I just returned from Road to California in Ontario (east of Los Angeles). My friend and fabulous machine quilter, Janet  Stuart and I entered our first quilt collaboration into the show, and we were awarded 3rd place!
The quilts at Road to California were spectacular! Janet and I were proud to be accepted, and humbled to receive an award from the judges. The award winners are listed on the Road to CA website.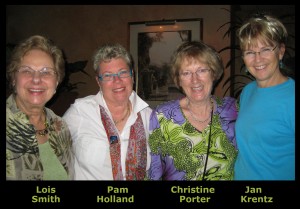 Working under a short-term deadline, the quilt was originally designed in 2006 to feature my Timeless Treasures Textural fabric line.  The large quilt's appliqué took longer than expected, and was not displayed in the fabric booth at Market that year.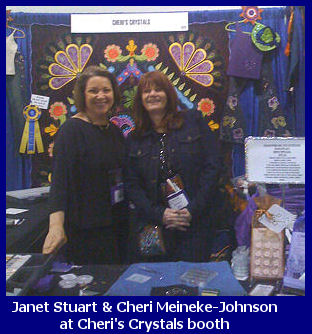 My favorite reasons to visit a quilt show: 
Viewing spectacular quilts inspires me to take time and add special touches to my own quilts
Meeting friends 'Äď quilt shows are¬†reunions between hundreds of quilters!
Shopping at the vendor booths¬†'Ästtreat yourself to new gadgets, fabric, patterns and tools!
Watching demonstrations of new products.
Refreshing your imagination with new colors, patterns and ideas.
I had a great time with friends Cheri Meineke-Johnson and Janet Stuart as they worked in Cheri's Crystals booth. Cheri sells beautiful Swarovski crystals that are applied with a special heat tool to fabric. Her award-winning quilts with quilter Linda V. Taylor are gorgeous!
Lois Smith, USA¬†'ÄĒ Christine Porter, Bristol, England¬†'ÄĒ Pam Holland, Australia¬†