Thursday, September 1st, 2011
I am teaching the Framed Diamonds / Dancing African Ladies quilt in Grand Junction, Colorado, Oct. 15, 2011. The location is Quilters' Corner in Grand Junction. Due to my travel schedule, I am unable to loan out the original Dancing African Ladies quilt. Therefore, I selected two related fabrics from my stash (these are older fabrics, no longer available):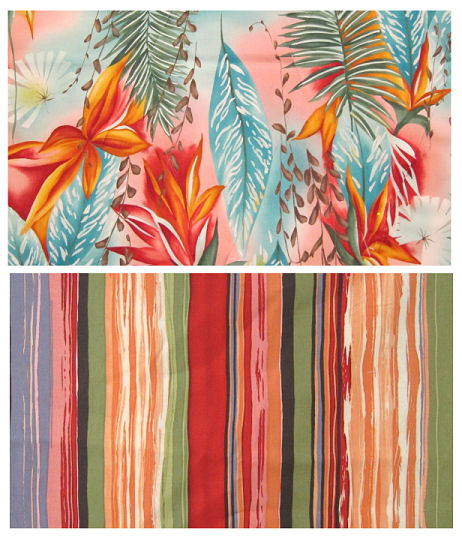 (Cutting directions available in the Quick Diamond Quilts book).¬† I cut the¬†tropical floral print at a 22.5-degree¬†angle¬†(to control¬†the grainline) and sub-cut into 45-degree angles. The grain runs through the center of the¬†diamonds, and the quilt will be stable once it is pieced.¬† I also cut the striped fabric on an angle, and sub-cut into quarter diamonds. These are the ruler sets I used, in addition to the long 6″ x 24″ ruler.
I sewed combinations of framed diamonds, and arranged them on my design wall. I alternated a pieced diamond with a floral diamond, all arranged in rows. The edges looked a little too "blendy" between the striped diamonds and the print, so I added a narrow dark brownish batik fabric trim at the edges of the striped diamonds.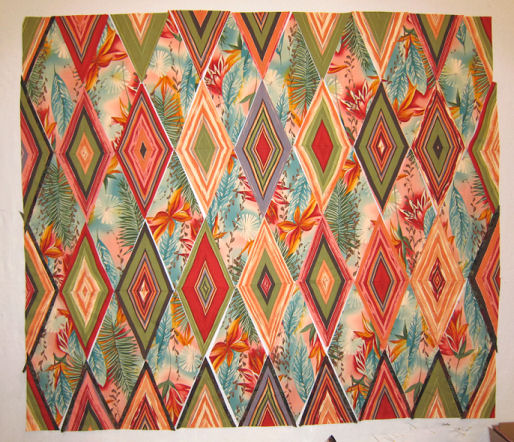 I pieced the rows of diamonds diagonally, creating larger sections, and finally assembled the entire top. I sewed 3 fabrics together, creating borders. The borders were added, and the corners mitered finish the design.